BATTERY 2030+ IS A LARGE SCALE, LONG-TERM EUROPEAN RESEARCH INITIATIVE
With the vision of inventing the sustainable batteries of the future. This will provide European industry with disruptive technologies and a competitive edge throughout the entire battery value chain and enable Europe to reach the goals of a climate-neutral society envisaged in the European Green Deal.
The BATTERY 2030+ large-scale research initiative is creating a generic toolbox for transforming the way we develop and design batteries in Europe. It is part of the EUR 272 million support from the European Commission to enhance and accelerate battery research and production. BATTERY 2030+ specifically runs over the years 2020-2023, with a plausible continuation to reach mid-term and long-term goals. The projects are implementing the BATTERY 2030+ research roadmap. The initiative consists of seven projects; one coordination and support action (CSA) coordinated by UU, Sweden, and six research and innovation projects: BAT4EVER, coordinated by VUB, Belgium; BIG-MAP, coordinated by DTU Denmark; HIDDEN, coordinated by VTT Finland; INSTABAT, coordinated by CEA France; SENSIBAT, coordinated by IKERLAN in Spain, and SPARTACUS, coordinated by Fraunhofer in Germany.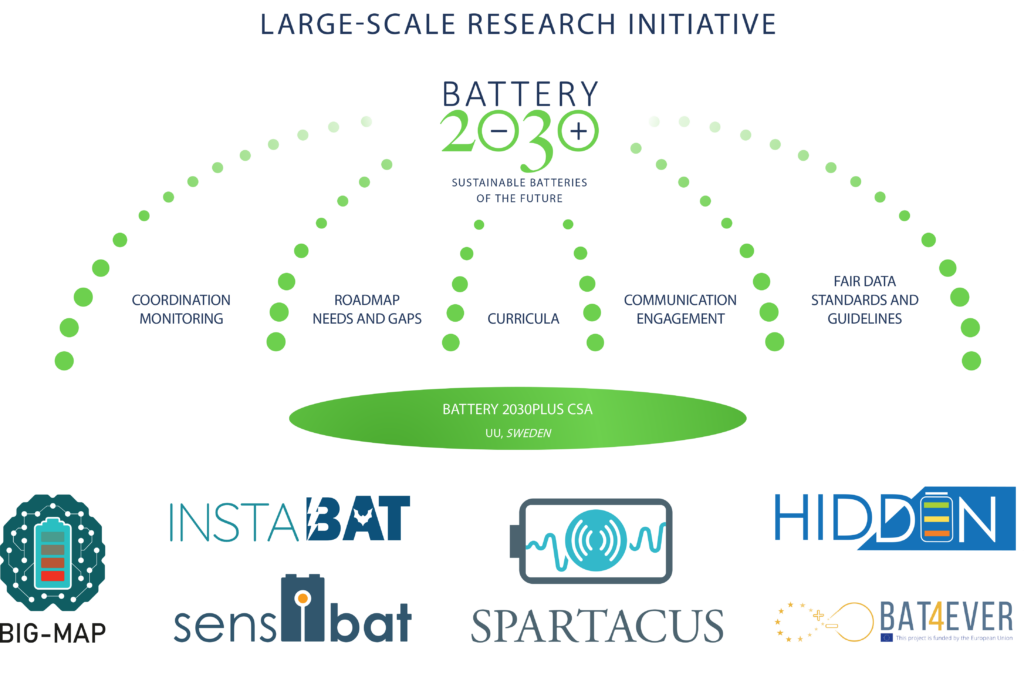 The BATTERY 2030+ community works on concrete actions that support the implementation of the European Green Deal, the UN Sustainable Development Goals, as well as the European Action plan on Batteries and the European SET-plan.
The BATTERY 2030+ initiative has a chemistry-neutral approach to facilitate the invention of the batteries of the future. The research directions presented in our roadmap outline a generic toolbox for transforming the way we develop and design batteries. The roadmap presents three overarching research themes and six research areas needed in order to invent the sustainable batteries of the future.
Accelerated discovery of battery interfaces and materials – Battery Interface Genome (BIG) Materials Acceleration Platform (MAP)
Integration of smart functionalities – sensing and self-healing
Cross-cutting areas – manufacturability and recyclability
The BIG-MAP project is the largest. BAT4EVER and HIDDEN both focus on smart functionalities giving the battery self-healing properties. INSTABAT, SENSIBAT, and SPARTACUS all develop different methods for sensing the state of the battery, internally as well as externally.