BATTERIES ARE A KEY TECHNOLOGIE ENABLING A CLIMAT-NEUTRAL EUROPE BY 2050

Climate change, environmental pollution, habitat loss, and decreasing biodiversity have major impacts on our lives and require coordinated actions. The EU's total carbon footprint in 2017 was equal to 7.2 tons of CO2 per person, according to Eurostat. By 2030, the EU wants to reduce its greenhouse gas emissions by 50 percent or more compared with 1990 levels, aiming at zero net emissions by 2050. This goal has been formulated as part of the European Green Deal, launched in December 2019. The mission is to transform the EU's economy for a sustainable future and to make Europe the first climate-neutral continent.
In the initial roadmap for the European Green Deal, key policies, objectives, and actions are formulated to reach the overall target. All EU actions and policies are to contribute to the objectives, including the BATTERY 2030+ initiative.
Rechargeable batteries with a high round-trip efficiency are a key technology enabling energy storage for a vast number of applications, which is also expressed in the European Green Deal. Batteries can accelerate the shift towards sustainable and smart mobility, help supply clean, affordable, and secure energy and mobilise industry for a cleaner, circular economy including full life cycle assessment (LCA).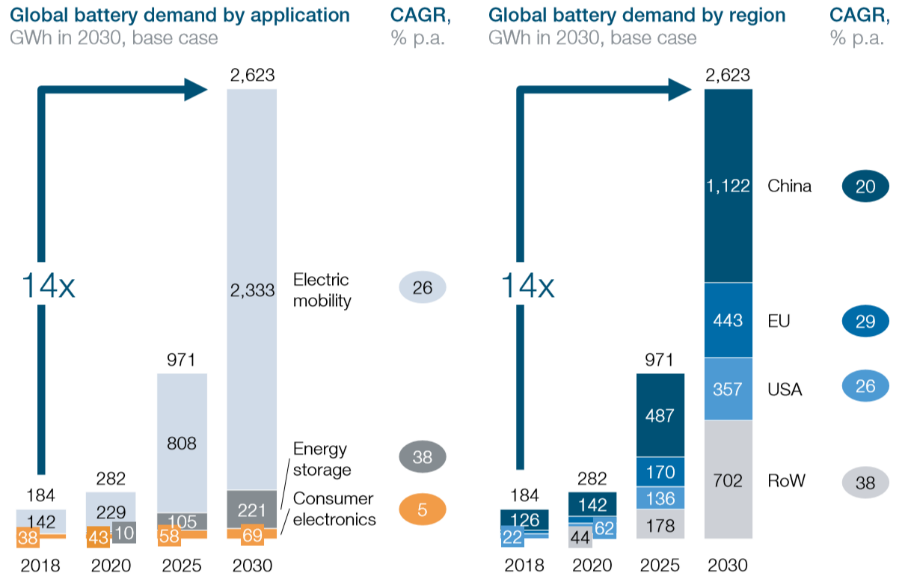 Unsurprisingly, battery demand is rising dramatically. All international institutions predict a rapid growth for the lithium-based battery market over the coming ten years. Europe alone will need an annual cell production capacity of at least 200 GWh in the next five years increasing steadily towards the TWh range (see Figure).
The market for rechargeable batteries is currently dominated by the lithium-ion (Li-ion) chemistries, which perform well in most applications. However, current generation Li-ion batteries are approaching their performance limits. Without major breakthroughs, battery performance and production will not keep up with the developments necessary to build a climate-neutral society.
While Li-ion batteries will continue to play a major role in the energy storage landscape, disruptive ideas are required that can enable the creation of the sustainable batteries of the future and lay the foundation for European competitiveness during the transition to a more electricity-based society.