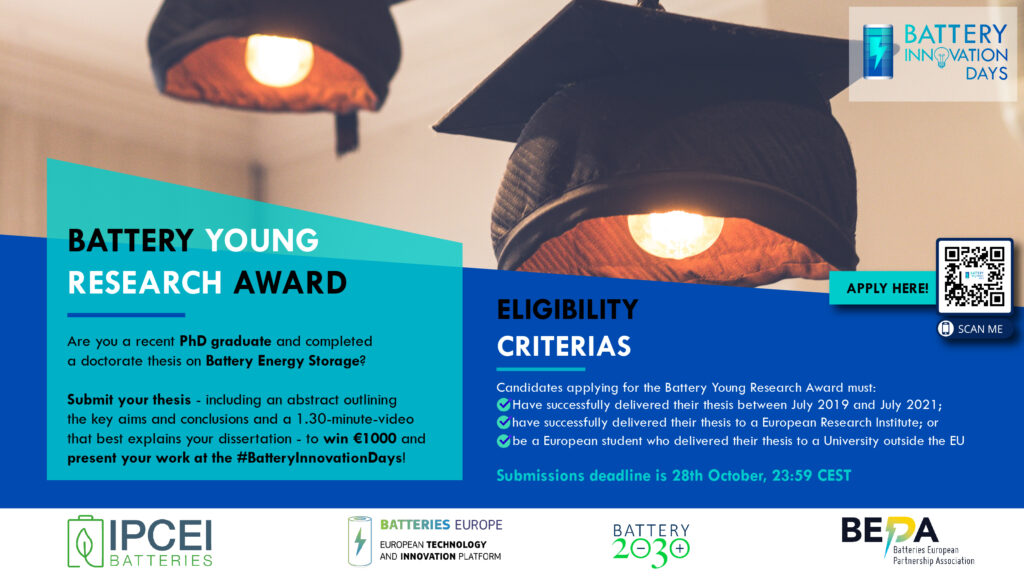 Battery Innovation Days: Call for Battery Young Research Award𝐀𝐁𝐎𝐔𝐓 𝐓𝐇𝐄 𝐁𝐀𝐓𝐓𝐄𝐑𝐘 𝐘𝐎𝐔𝐍𝐆 𝐑𝐄𝐒𝐄𝐀𝐑𝐂𝐇 𝐀𝐖𝐀𝐑𝐃
On 𝟐𝟑-𝟐𝟒-𝟐𝟓 𝐍𝐨𝐯𝐞𝐦𝐛𝐞𝐫 𝟐𝟎𝟐𝟏, the 1st edition of the annual conference on battery Research and Innovation, the 𝐁𝐚𝐭𝐭𝐞𝐫𝐲 𝐈𝐧𝐧𝐨𝐯𝐚𝐭𝐢𝐨𝐧 𝐃𝐚𝐲𝐬, will take place online.
Within this framework, the 𝐁𝐚𝐭𝐭𝐞𝐫𝐲 𝐘𝐨𝐮𝐧𝐠 𝐑𝐞𝐬𝐞𝐚𝐫𝐜𝐡 𝐀𝐰𝐚𝐫𝐝 honors academic excellence in battery research, and recognises the commitment of those students supporting scientific advancements in the field.
𝐄𝐋𝐈𝐆𝐈𝐁𝐈𝐋𝐈𝐓𝐘
Candidates applying for the Battery Young Research Award must:
• Have successfully delivered their thesis 𝐛𝐞𝐭𝐰𝐞𝐞𝐧 𝐉𝐮𝐥𝐲 𝟐𝟎𝟏𝟗 𝐚𝐧𝐝 𝐉𝐮𝐥𝐲 𝟐𝟎𝟐𝟏;
• have successfully delivered their thesis to a 𝐄𝐮𝐫𝐨𝐩𝐞𝐚𝐧 𝐑𝐞𝐬𝐞𝐚𝐫𝐜𝐡 𝐈𝐧𝐬𝐭𝐢𝐭𝐮𝐭𝐞; or
• be a 𝐄𝐮𝐫𝐨𝐩𝐞𝐚𝐧 𝐬𝐭𝐮𝐝𝐞𝐧𝐭 who delivered their thesis to a University outside the EU
𝐖𝐇𝐀𝐓
All PhD candidates must submit:
• The 𝐟𝐮𝐥𝐥 𝐝𝐨𝐜𝐭𝐨𝐫𝐚𝐭𝐞 𝐭𝐡𝐞𝐬𝐢𝐬 𝐢𝐧 𝐄𝐧𝐠𝐥𝐢𝐬𝐡, including a 𝐭𝐰𝐨-𝐩𝐚𝐠𝐞 𝐚𝐛𝐬𝐭𝐫𝐚𝐜𝐭 𝐨𝐫 𝐬𝐮𝐦𝐦𝐚𝐫𝐲 in English presenting the most important aims and conclusions of the dissertation;
• A 𝟏 𝐦𝐢𝐧𝐮𝐭𝐞 𝐚𝐧𝐝 𝟑𝟎 𝐬𝐞𝐜𝐨𝐧𝐝𝐬 𝐯𝐢𝐝𝐞𝐨 that best explains your doctorate work in English; and
• A 𝐥𝐞𝐭𝐭𝐞𝐫 𝐨𝐟 𝐫𝐞𝐜𝐨𝐦𝐦𝐞𝐧𝐝𝐚𝐭𝐢𝐨𝐧 (2 pages max) from the supervisor
𝐖𝐇𝐄𝐍
All PhD candidates must submit their work 𝐛𝐲 𝟐𝟖𝐭𝐡 𝐎𝐜𝐭𝐨𝐛𝐞𝐫 𝟐𝟎𝟐𝟏, 𝟏𝟏:𝟓𝟗𝐩𝐦 𝐂𝐄𝐒𝐓
𝐅𝐎𝐑𝐌𝐀𝐋 𝐆𝐔𝐈𝐃𝐄𝐋𝐈𝐍𝐄𝐒 𝐅𝐎𝐑 𝐒𝐔𝐁𝐌𝐈𝐒𝐒𝐈𝐎𝐍
The guidelines for size, language and design can be found below:
𝐓𝐡𝐞𝐬𝐢𝐬 𝐃𝐨𝐜𝐮𝐦𝐞𝐧𝐭:
• Word or PDF document
• Language: English
• Cover page: must include Name and Last Name, year of the Delivery, Name of the University, Title of the artwork
𝐕𝐢𝐝𝐞𝐨:
• Format: any
• Software: any
• The presenter should be seated in front of a solid background, with the camera positioned at eye level.
𝐓𝐇𝐄 𝐏𝐑𝐈𝐙𝐄
The winning candidate will be entitled to:
• A prize with his/her name, name of the entities delivering the prize, name and logo of the event;
• A speaking slot to present their thesis on 24th November
• A voucher worth 1000€
𝐉𝐔𝐃𝐆𝐈𝐍𝐆 𝐂𝐑𝐈𝐓𝐄𝐑𝐈𝐀
Please, note that all limits and requirements are strictly observed by the Battery Innovation Days Committee and 𝐚𝐧𝐲 𝐬𝐮𝐛𝐦𝐢𝐬𝐬𝐢𝐨𝐧𝐬 𝐞𝐱𝐜𝐞𝐞𝐝𝐢𝐧𝐠 𝐭𝐡𝐞 𝐥𝐢𝐦𝐢𝐭𝐬 𝐨𝐫 𝐧𝐨𝐭 𝐟𝐨𝐥𝐥𝐨𝐰𝐢𝐧𝐠 𝐭𝐡𝐞 𝐠𝐮𝐢𝐝𝐞𝐥𝐢𝐧𝐞𝐬 𝐰𝐢𝐥𝐥 𝐧𝐨𝐭 𝐛𝐞 𝐞𝐱𝐚𝐦𝐢𝐧𝐞𝐝.
Battery Young Research Award apply here